Become a Belly Dance College Certified Belly Dance Instructor
Enroll Now!
Learn to do something that you love and want to share with others.  Becoming a Belly Dance College Certified Belly Dance Instructor couldn't be easier.  You don't need years upon years of dance experience to teach a class if you have the right training and certification from a respected source.  Thanks to Belly Dance College, it's easy to learn and easy to teach others. 
The #1 goal of Belly Dance Tutor is to make your training and certification easier, cost effective, and practical. Save time, money and travel expenses by training at home.  Self-study gives you complete control over your learning process. Learn to teach traditional belly dance movements from our step-by-step instructional videos.  This belly dance instructor training and certification system is comprehensive, quick  to access, and apply to the real world.  We really want you to succeed, so the Tutor even provides convenient teaching and marketing tools.  Included are customizable flyers, class organizational outline, student sign-in roster, and a "Checklist of Movements" to help manage your class and much, much more.
Why Belly Dance Tutor?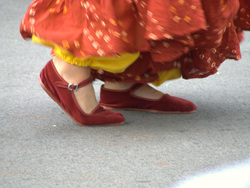 Over the years, Belly Dance College has received numerous requests for Instructor Certification.  However, it's impossible to validate each and every individual's training simply due to logistical problems, teacher shortage, time restraints, and high expenditures.  So, to meet these challenges,  we created a virtual classroom online: Belly Dance Tutor.
Unless you are an active, experienced belly dancer, the Tutor is your ticket to Instructor Certification.  This assures us that you have a solid foundation of belly dance movements, techniques, history, styles, teaching and business principles.  By meeting specific education and training requirements of a virtual classroom, you will be awarded a credentialed certificate demonstrating your proficiency.  Whether you're experienced or a beginner, this is a win-win program that works equally effective for everyone.
Whether you are a beginner with little or no experience or a dance expert, you can train easily, readily, and affordably.  Learn at your own pace.  It is a win-win environment that effectively benefits everyone.

New!  New!  New!  FAST Certification for Active and Experienced Belly Dancers
Belly Dance College is now offering a Fast Track Program for experienced belly dancers.   Simply apply and submit a link to your belly dance video or professional website.
To find out more:   http://www.bellydancecollege.com/fast-certification—apply-now.html  
We Teach You … Then, You Teach Others
Research tells us that we teach as we are taught. Belly Dance College's Easy-to-Learn & Easy-to-Teach philosophy is simple:  We teach you; then, you teach others. 
Belly Dance Tutor makes it easy to share your knowledge.  Everything you need to start your own class is provided on this site.  Teaching others is a powerful experience. Watch and learn from Belly Dance Tutor, then, with an open mind, say to yourself, "That's easy. I can do that too!" You don't have to be a belly dance superstar to be a belly dance instructor.  Belly Dance Tutor provides you with a solid foundation and the teaching skills to professionally teach others.

 

You get All these Amazing Benefits and Special Features
You will learn everything you need to teach your first belly dance class.
Belly Dance Tutor provides you with the following benefits and features plus, much more!
—  Belly Dance Training:  Easy-to-Learn and Easy-to-Teach movement
— Registry:  Your name and  information registered in the Belly Dance College registry
—  Videos: Over 40 short and focused training videos that give you the freedom to move at your own pace
—  24/7 Access to the virtual classroom
—  Simplified: Traditional belly dance movements that are Easy-to-Learn & Easy-to-Teach to others
—  Guides:  A step-by-step guide for teaching your own belly dance class
—  Teaching: Practical advice and effective teaching techniques and tips
—  Costuming: Creative ideas for creating a belly dance costume on a budget
—  Veil: Stunning and easy veil movement videos
— History: Origins of belly dance
—  Dance Styles: Understanding belly dance styles
—  Advertising: How to advertise your class on a shoestring budget
—  Marketing:  How to market your class on a shoestring budget
—  Helpful Print-Outs:  Customizable template flyers, marketing and advertising documents
— Certificate: Certification Certificate of Completion  from Belly Dance College to print out and frame
—  Crest:  Downloadable Certification Crest to add to your business card or website.

Plus, there's more…!
We seriously want your new class to be a success story.  To fuel your growth, we provide several customizable templates
to use in your new venture.
— Checklist of Belly Dance Movements
— Class Announcement Flyer
— Student Roster
— Grand Opening Announcement Flyer
— Proposal Letter to Offer a Belly Dance Class
— Outline of Proposed Class Content
— Monthly Income Tally Sheet
Both Beginners and Experienced Welcome!
If  You're a Beginner…
Let's face it.  Everyone has to start somewhere.  Belly Dance Tutor requires no previous experience.  We will walk you through the steps. In the virtual classroom, you will learn from several training videos.  They are short, user-friendly and provide you with a foundation belly dance movements and teaching techniques.  If you want to succeed, just stick-to-it and  make a commitment to the learning process.
Video Training is Powerful
We don't waste your time.  The Tutor keeps the training videos short and to the point.  Training videos are short  in duration and to-the-point to facilitate quick loading and streaming.  You can jump from one video to the other, repeat it, or skip it entirely.  It's up to you.
We keep you organized.  Belly Dance Tutor has streamlined the learning experience with user-friendly modules and a vertical menu guide.  Instantly move from one module to another.   We've made user-friendly for everyone.
The Tutor provides you with a handy "Checklist of Belly Dance Movements" which will keep you organized.  You can download and print a hard copy if desired.  We want you be able to refer to this handy guide to check what you have learned and what you will teach.  It also doubles as a lesson plan for your own classroom.
Instructor Certificate and Crest
You deserve recognition because you are a success! So, display your Certificate! Flaunt the Crest!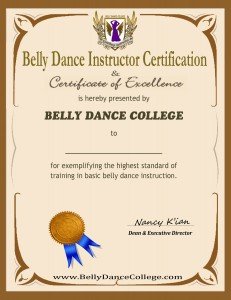 Our students receive a downloadable and printable Certified Belly Dance instructor Certificate to proudly display on website, business cards, letterhead, marketing materials – anywhere!
— When starting a new belly dance class, nothing impresses potential students and employees more than to tell them, "I am a Certified Belly Dance Instructor."
— Certification by Belly Dance College demonstrates your commitment professional belly dance.
— Certification provides you with a sense of pride and professional accomplishment.
— Your name and information is forever recorded in the Belly Dance College Registry.
Your Tutor
Nancy Kevorkian is a certified belly dance instructor and world-renowned belly dance performer. She has taught many students who have gone on to teach their own students.  Likewise, Nancy will teach you easy belly dance movements and show you how to teach them to others.  Her goal is to provide you with superior belly dance instructor training and certification.  She keeps it quick and to-the-point so you can watch each movement over and over. 
      & Belly Dance Training
Only $249
Limited Time Special:  $165
(Limited time offer)